Composite Shutters let you experience the essence of real wood in rooms that require a durable or cost-effective solution. Engineered to withstand high humidity, Composite Shutters coordinate with Composite Blinds and are ideal for kitchens, laundry rooms, bathrooms, and other high-humidity rooms.
Engineered to Perform
Rigid, composite construction resists flexing from season to season
Color palette overlaps with

 

Composite Blinds

 

for whole-home coordination
Impervious to moisture, meaning you can install in any indoor environment
Designed for durability, composite shutters are ideal for high-traffic areas
Composite shutter panels now come as wide as 36″, offering a better solution for larger windows and allowing for a clearer view to the outside
Composite Shutter Product Options
Choose from a range of shutter styles, easily customizable based on your privacy needs and size of your windows or doors.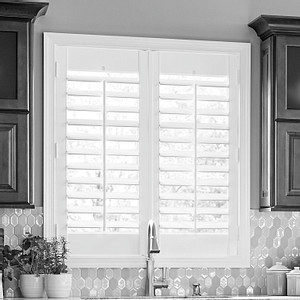 Standard Panel
Rectangular-shaped panel covering the entire window and can be installed using any frame style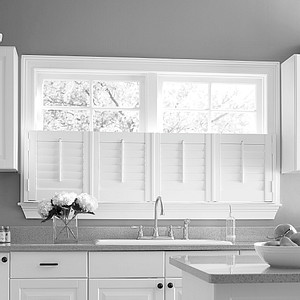 Café
This classic style covers the bottom part of the window, allowing light to enter above while maintaining privacy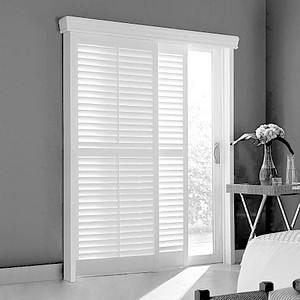 Bypass Track System
Ideal for patio or closet doors, panels slide on a double track that can be attached to a frame or mounted directly to a window casing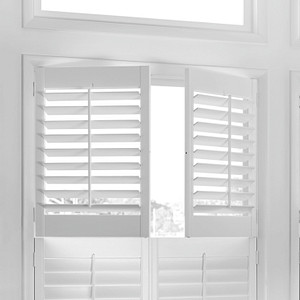 Double-Hung Shutters
Top and bottom panels hang in the same window but operate separately, allowing the top to be opened for daylight while the bottom is closed for privacy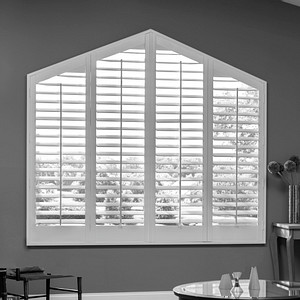 Arch or Angle Top Panels
Whole window solutions that perfectly fit the rounded shape of full arch windows or angles of slanted windows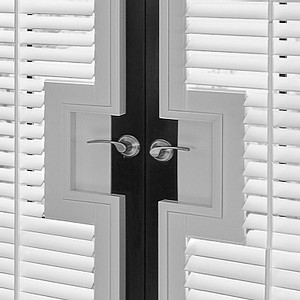 French Doors
Mounted to French doors, curved or rectangular cutout options can accommodate door knobs or handles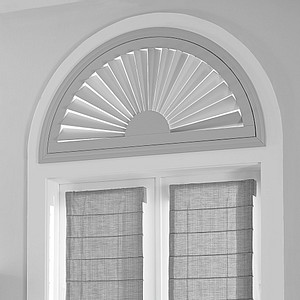 Sunburst Arches
Sunburst patterned louvers cover unique window silhouettes such as eyebrow, elongated, and elliptical arches
With three sizes to choose from, window size along with the outside views will help you decide which louver width is the best choice for your shutters.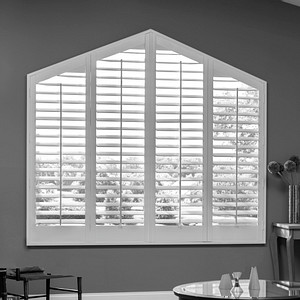 Arch or Angle Top Panels
Whole window solutions that perfectly fit the rounded shape of full arch windows or angles of slanted windows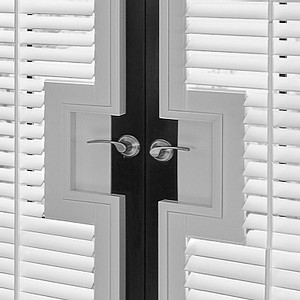 French Doors
Mounted to French doors, curved or rectangular cutout options can accommodate door knobs or handles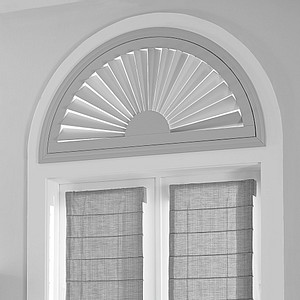 Sunburst Arches
Sunburst patterned louvers cover unique window silhouettes such as eyebrow, elongated, and elliptical arches
Limited Lifetime
Warranty
The Graber Limited Lifetime Warranty extends from installation throughout the life of your window treatment